Black Box Mini - 10 lb Weanling Bucking Dummy
Complete Set $950 + Shipping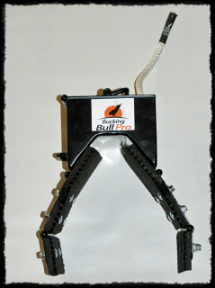 Includes:
- 10 lb. Dummy
-Long Lasting, Light Weight Li-Ion Battery Technology
- Necklace Remote
- Li-Ion Charger
- Unbreakable Antenna
- Hinged Pad
- Quick Pull Cinch

*The Black Box Mini is specifically designed for weanlings and small yearlings.
The hinged pads provide a better fit on smaller sized calves. The body is made from a thinner gauge steel than our other dummies. If used on larger bulls, it can be damaged and is not covered under the warranty.



FREE Annual Lifetime Maintenance
Most dummy hang ups are due to lack of proper care and maintenance. Once a year you can send your dummy
back and it will be thoroughly cleaned, tested and returned to you (you pay return shipping charges).
Warranty
Each dummy comes with a 2 year limited warranty that covers all internal electronics (except
battery), the steel box, and pad. Not covered: damage to the remote control, damage to electronics due to moisture, and damage due to unauthorized repairs or modifications.
Shipping
All products are shipped USPS Priority Mail with tracking.


---
After adding the Complete Set to your cart, you MUST add a shipping location.

International Shipping - Canada ($80)

International Shipping - Australia ($145)

International Shipping - Brazil ($220)

Shipping to Central US ($35)

Shipping to Western US ($45)

Shipping to Eastern US ($45)