Black Box All-Around - 15 lb Bucking Dummy
Complete Set $800 + Shipping or Ultimate Set (Pictured) $1,100 (US Shipping Included)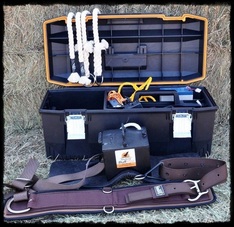 Pictured: $1100 Ultimate Set
Black Box All-Around Dummy Complete Set includes:
15 lb. Dummy, Necklace Remote, Float Charger, Unbreakable Antenna & Quick Pull Cinch. (Does NOT Include Flank Pin - Order Below)

Black Box All-Around Ultimate Set Includes:
(US Shipping Included in Price - Add shipping below for international Orders)
15 lb. Dummy, Necklace Remote, Float Charger, Unbreakable Antenna, Quick Pull Cinch, Flank Pin, Spare Dummy Battery, 2 Flanks w/Rings, Waterproof Carrying Case.

The Black Box All-Around is designed for versatility. We buck a lot of bulls at our arena for other breeders and this dummy fits all of them. It is appropriate for any age horse or bovine. If you can only afford 1 dummy, this is the one.
For an even better fit, add the hinged pad option below.(see photo)
(It is a little wide for small weanlings. It will work, but the 10lb Mini is reccomended for weanlings)

FREE Annual Lifetime Maintenance
Most dummy hang ups are due to lack of proper care and maintenance. Once a year you can send your dummy
back and it will be thoroughly cleaned, tested and returned to you (you pay return shipping charges).
Warranty
Each dummy comes with a 2 year limited warranty that covers all internal electronics (except
battery), the steel box, and pad. Not covered: damage to the remote control, damage to electronics due to moisture, and damage due to unauthorized repairs or modifications.
Shipping
All products are shipped USPS Priority Mail with tracking.


---
Upgrade to Hinged Dummy With Premium
​Leather Pad As pictured below
If ordering a COMPLETE SET, you MUST add a shipping location to your cart.

International Shipping - Canada ($85)

International Shipping - Australia ($180)

International Shipping - Brazil ($220)

Shipping to Central US ($35)

Shipping to Western US ($45)

Shipping to Eastern US ($45)