Upgrade to Premium Leather Pad
Upgrade to Premium Leather Pad
Black Box Max- 23 lb Bucking Dummy
Complete Set $900 + Shipping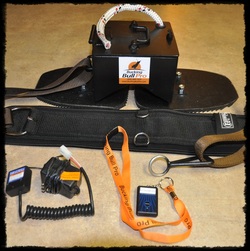 Includes:
- 23 lb. Dummy
- Necklace Remote
- Float Charger
- Unbreakable Antenna
- Hinged Pad
- Quick Pull Cinch
-Softer leather covered neoprene pad available

The Black Box Max is the "competition weight" dummy and is designed for 2+ year old bulls.


FREE Annual Lifetime Maintenance
Most dummy hang ups are due to lack of proper care and maintenance. Once a year you can send your dummy
back and it will be thoroughly cleaned, tested and returned to you (you pay return shipping charges).
Warranty
Each dummy comes with a 2 year limited warranty that covers all internal electronics (except
battery), the steel box, and pad. Not covered: damage to the remote control, damage to electronics due to moisture, and damage due to unauthorized repairs or modifications.
Shipping
All products are shipped USPS Priority Mail with tracking.


---
After adding the Complete Set to your cart, you MUST add a shipping location.

International Shipping - Canada ($80)

International Shipping - Australia ($180)

International Shipping - Brazil ($220)

Shipping to Central US ($45)

Shipping to Western US ($59)

Shipping to Eastern US ($59)