Black Box Dually - 23 lb Bucking Dummy
Complete Set $1700 + Shipping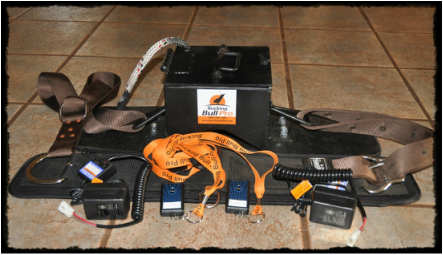 Includes:
- 23 lb. Dummy
- 2 Necklace Remotes
- 2 Float Chargers
- Unbreakable Antenna
- Hinged Pad
- Quick Pull Cinch
- Option for 2 Lithium Ion Batteries Available
- Softer Leather Covered Neoprene Pad Available.


The Black Box Dually is equipped with two completely independent latch systems to eliminate hangups. With the improvements that the Black Box line has brought to the business, we felt the need to go even further and build a dummy that can almost guarantee no hang ups. If you've bucked enough bulls with a dummy, you've had one hang up. This dummy is built for those of you who take no risks when it comes to your high dollar prospects. Perfect for long yearlings and two year olds on up.

FREE Annual Lifetime Maintenance
Most dummy hang ups are due to lack of proper care and maintenance. Once a year you can send your dummy back and it will be thoroughly cleaned, tested and returned to you (you pay return shipping charges).
Warranty
Each dummy comes with a 2 year limited warranty that covers all internal electronics (except battery),
the steel box, and pad. Not covered: damage to the remote control, damage to electronics due to moisture, and damage due to unauthorized repairs or modifications.
Shipping
All products are shipped USPS Priority Mail with tracking.
---
After adding the Complete Set to your cart, you MUST add a shipping location.

Shipping to Central US ($45)

Shipping to Western US ($59)

Shipping to Eastern US ($59)

International Shipping - Canada ($80)

International Shipping - Australia ($180)

International Shipping - Brazil ($220)

Dummy Release Clip

We reccomend ordering extra dummy release clips with your Dually purchase.

---