CATTLE FOR SALE
These are females I have chosen to put up for sale. None of these are for sale because of calving problems or production problems. Most of them I have not even bucked a calf of theirs to know what they are capable of. Every one is a direct daughter of a proven bull. We just can't keep them all and only have so much pasture. I have so many up and coming heifers by No Guts I need to make room for them.

With that said, every animal shown on our site is "for sale". If there is something you like on one of the other pages, don't hesitate to call or email. It never hurts to ask. I will discount if you buy more than one.

2016 Heifers will be up for sale soon. Take a look at our "Calves" page and see if something catches your eye. Email us and make an offer if there are some you want. Will discount on a package. BuckingBullPro@aol.com
---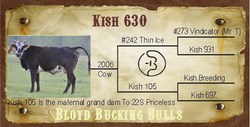 ---
Kish 630 ABBI#10145562 DOB: 11-2005 Bred Cow.
Bred to #352 No Guts for a Spring/Summer 2017 calf.
Carries the K Spear Brand. (Kish raised cow)
See video below of her 2015 bull calf. The calf inside this cow is a full sibling to the calf in the video.
$2500
#242 Kish's Thin Ice was an NFR/PBR bull that was marked 24.5 at the NFR in 2006 and was the Wrangler Bull Of the Night. He's sired by Vindicator who was an own son of the legendary Mr. T. Kish 931, Thin Ice's momma, is an own daughter of Wolfman and is also the dam to Page cow K324. K324 is the dam to J.W. Hart's superstar PBR short round bull, Flirting With Disaster.(21.44)
Kish 105 is the dam to the Page's K327 cow. K327 is the dam to Page's 22S Priceless(21.8), 107X The Price Is Right(20.2) and Chad Berger's 105W Too Tall(21.3) ()=avg bull marking on ProBullStats.com
You talk about a cow with potential. This cow comes from a very strong and well proven maternal line that produces PBR BFT bulls. We have kept her 2013 daughter and we're keeping her 2016 heifer in our herd for her genetic potential. This cow weighs around 1000#. We also flushed this cow to #624 Wolfman and have 3 embyros banked to keep her genetics in our herd. This is the only reason we are offering this outstanding cow for sale. She is hot when crowded into a pen and is not a pet. She is carrying a calf sired by No Guts and should calve in Spring 2017.
No Guts calves have been very good. No Guts is a nephew to Kish's Smooth Move, primary herd sire for the Pages. Smooth Move was sired by Top Gun. No Guts is double bred Top Gun.
---
---