---
DUE TO TIME CONSTRAINTS, THIS PRODUCT IS NOT CURRENTLY AVAILABLE.
I am so busy with family, dummies, flanks, cattle and fire department work, I cannot get these built in a timely manner. Check back later.

PORTABLE BULLRIDING / ROUGHSTOCK EVENT BUZZER / TIMER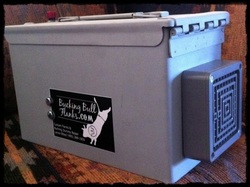 This portable buzzer / timer was built with backyard bull ridings or small-scale futurities in mind, but it can be used for any rough stock event. No more using an air horn to let the rider or remote user know that it's time to get off. It is fully enclosed and no power source is needed- other than a recharge approximately every 200 uses.
---
Price $500.00



Updated video coming soon.
This video is of the prototype we first made. The timer adjustment knob is now located inside the box, but can still be easily adjusted. Please contact us if you would like more specific details about our current model. Thank you!
CONTACT US
if your interested in leasing for an event.
-IF SHIPPING OUTSIDE OF THE 48 STATES -
PLEASE CONTACT US BEFORE ORDERING. ADDITIONAL SHIPPING AND HANDLING APPLY.
---